Deena Larsen's web bookshelf in more or less in reverse chronological order...
A little commitment here
Looking for something a little more involved: something I can understand quickly, but will take some time to unravel. These will take anywhere from several hours to several weeks to read.

My Marble Springs,

Disappearing Rain

, and

E:Electron

(with Geoffrey Gatza) and

Princess Murderers

(with geniwaite) are at this level.
Serge Bouchardon's Loss of Grasp uses sound, touch, and navigation to follow loves and lives. (2011)


Aaron Reed maybe make some change shows how limited a soldier's choices can be.


Sara Sloan Bailey's Factography: A series of interwoven stories that range from the vagaries of Texas anti-sodomy laws to struggling waitresses (2008)


NOT WORKING Stuart Moulthrop's Radio Salience provides a rambling musing on designs when the reader puts the images together. (images, game navigation) (2007)


Mark Marino's Marginalia in the Library of Babel provides a static and dynamic commented tour of the library of Babel musings found on the web. (pop up commentary, original text and outside websites) (2007) REQUIRES FLASH 8 AND FIREFOX


Heather Raikes' The Wave: a flash work with a series of circle symbols across the top leading to pages of poetry and meditations on extensions of souls. (2007)


Stephanie Strickland's Slipping Glimpses (2007) places evocative poems for water to read—as the words float and move with the water—as well as the reader to control in the screen below the water. (click scroll text)


Jason Nelson's Between Treacherous Objects navigate texts between spaces such as the deathbed and the fridge. (2006) (game navigation)


Judd Morrisey's Jew's Daughter. This is a lovely lyrical work that breaks "in the middle" where the edges of text remain the same after crossing a link. Takes some time to read through carefully.


Linda Carroli's Fragments of Faith: Help yourself to a do it yourself religion (on Frame 6). A nice essay that links Faith Popcorn's "develop our own moral lives" with ruminations on modern life.


Melinda Rackham's Carrier: an imagistic work that discusses viruses ( human, meme, and computer) in fiction, support groups, and philosophy. PORTIONS NO LONGER WORK


Caitlin Fisher's These Waves of Girls weaves an account of girls growing up.


NOT WORKING Christy Sheffield Sanford and Reiner Strasser's ~Water~Water~Water~, is a poetic meditation on water, using images and java.


Stephanie Strickland's works are very fine poetry, and use text and imagery to get her points across. She usually colors words according to theme rather than according to the current Web conventions for coloring words that are links. Try the Ballad of Sand and Harry Soot.


MD Coverley's works combine imagery and navigation with stories with characters that breathe. Try something smaller likebefore going on to more ambitious works such as Egypt: The Book of Going Forth by Day, Califia (Eastgate Systems)--where three characters search California past and present for gold.


MISSING: Laura Sullivan's Beautopia (visual index): This is a treatise on women's beauty, expectations, and the author's memories.


Judy Malloy's l0ve 0neis a connected novel made from Gweneth's diary as she goes through Germany.


Bill Bly's We Descend (Eastgate Systems): A great novel/mystery using fragments of text found on a post-apocalypse world.


Shelley Jackson's Patchwork Girl (Eastgate Systems): A female frankenstein who tries to reassemble herself. I particularly like the graveyard and associated links.


HYPERCARD ONLY John Cayley's Indra's Net is a downloadable Hypercard which plays with turning letters and words.


Robert Kendall's A Life Set for Two (Eastgate Systems) is a programmed poetry piece where what you choose determines what you will get.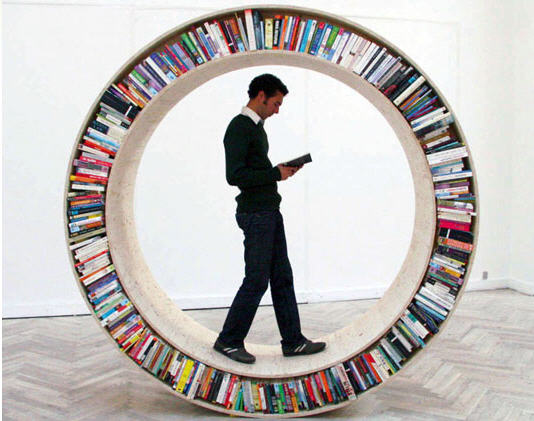 Webshelf by time: Most hypertext/electronic/new media works have a hidden time commitment--and so I tried to organize these in terms of the time it will take to see what is going on--not to understand the whole work. Some of these, particularly in my first category, can be seen and thoroughly "grokked" quickly. Others can be seen quickly and not grokked in a lifetime. Saying you can read this in an hour is like saying you can read T.S. Eliot's the Wasteland in an hour. Yes, you can but it isn't all that is there. So this is just a way to let you know up front what you might want to look at given your time constraints. It is by no means a description of how long to spend with a work.
Watch only / Quick (10 minutes) / Short (an hour) / A little involved / Complex -a lot involved/ Play a game /Write with the author